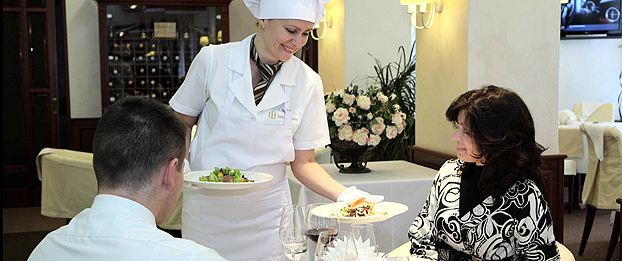 While you are on vacation in Truskavets you need to visit elegant fusion-restaurant «THEODORA», located in the unique medical and diagnostical resort complex «Chale Graal» in Truskavets. Here you can enjoy delicious dishes of European cuisine, taste the masterpieces of confectionery, which are produced by a little bakery of «Chale Graal», and also order diet nutrition according to recommendations of the doctor. The chef, who owns the finest secrets of oriental cuisine, serves for the guests from Caucasus and Central Asia.
Apart from an interesting menu, guests of the restaurant «Theodora» will be pleasantly surprised by refined wine collection, which will make an atmosphere of old Budapest.
The restaurant provides a dress code.
Welcome clothes restrained, laconic, excluding items of sports style. Follow our simple rules, you will create a pleasant mood themselves and others. Have a good time at the restaurant «Theodora»!
Restaurant «Theodora» – is simply delicious!